Cowboys and Ranch Hands
"A cowboy is a man with guts and a horse" – William James (1892-1942) western writer
The first documented reference to the term cowboy was almost 300 years ago in 1725. It is thought that the author Jonathan Swift brought the word into common usage when he used the term to refer to a boy who looked after cows. But in the 1800's, cowboys were most often referred to a cowpokes, cowhands, cow punchers and buckaroos. A cowboy was mainly self-directed, determining his own priorities and calculating how to handle diverse tasks,
Working with cowboys were ranch hands, generally manual laborers with a wide variety of skills to satisfy a multitude of tasks.   "We had to take a sprayer in and spray the cows" according to Phipps Ranch Hand Clyde "Skeet" Dennis.   A ranch hand usually reported to a foreman, who set priorities and made the assignments.
Ranch Hand Mike O'Malley, from the Phipps Ranch, remembers "An early storm came in and we had to go get the heifers in the Douglas Pasture.  We left here on horseback, and it was 15 below zero, I was so incredibly cold and uncomfortable.  We got there and built a fire because we were all so miserable.  We gathered them (the heifers) up and trailed them back here".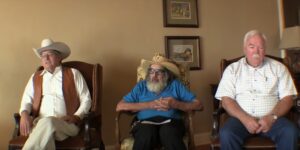 Walter Dennis, Clyde "Skeet" Dennis, Mike O'Malley–Phipps Ranch Hands
There are many famous cowboys in literature and media, but few famous ranch hands. Among the famous, and infamous ranch hands are the character of Judd, in "Oklahoma" by Richard Rodgers and Oscar Hammerstein, and both George and Lennie, in "Of Mice and Men", by John Steinbeck. In television westerns, few ranch hands were lead characters. An exception was the character Candy, the foreman on "Bonanza", as portrayed by David Canary
Famous cowboys are almost too many to name. Real cowboys are highlighted in the National Cowboy and Western Heritage Museum, in Oklahoma City, and in the Denver area at the Buffalo Bill Museum and Grave, just off Interstate 70 near Golden. In literature, novels by Zane Grey, Larry McMurtry and Louis L'Amour relate the adventures of cowboys. In television and movies, almost any John Wayne western is a cowboy story, or lawmen who started as cowboys. Famous portrayals were Rowdy Yates, as portrayed by Clint Eastwood in "Rawhide", and the roles played by Robert Duval and Tommy Lee Jones, in the series "Lonesome Dove".
Among the many Highlands Ranch Historical Society archives are the Oral History, "Seasonal Work at the Phipps Ranch", and "Phipps Ranch Hands", just a few reminisces of work on the ranch. The March 2023 HR Historical Society program featured an appearance by a few of these iconic western characters—cowboys and ranch hands.
"CATTLE, RANCH HANDS AND HARD WORK ON THE PHIPPS RANCH 1960'S

Thanks to
Your Dictionary , Funny Cowboy Sayings, by Jennifer  Gunner
Written by Mary Beth Watkins, HRHS  2023