The Carnation City
She never accepted his offer of a 2nd date.
As related by Doug Cohn, Historian and Archive Director, Englewood Historic Preservation Society, it was his high school prom and he was at his date's door with a beautiful carnation corsage. "She expected an orchid corsage" said Doug, "as carnations were common in Englewood Colorado."
At the early 1900's, the dairy farms in the Englewood area were moving from the growing metropolitan area into the open spaces further east and south. Growers quickly realized the former dairy land was ideally suited for crops. More than 20 square blocks east of the current intersection of Santa Fe and Hampden became vegetable gardens and nurseries. Carnations were raised in greenhouses, with more than 200,000 square feet of flowers growing in the enriched soil and ideal climate. When ready, the flowers were cut, and shipped from the Englewood train station, a main stop on the Rio Grande & Santa Fe Railroad. The cut carnations, not suitable for the long ride to eastern and west coast markets, were placed in buckets and left outside the greenhouses. Doug Cohn's prom date might have imagined that her corsage was composed of these "leftovers".
The carnation industry received a boost in the 1950's when Herman Oliner, a local florist, industry leader and greenhouse owner, discovered a process to dye the flowers.  Although expensive, the process opened additional markets to Englewood carnation growers.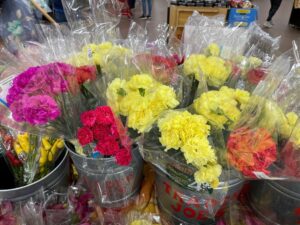 According to Herman's nephew, Myron, his uncle's greenhouse was in the heart of Englewood "on Elati Street just south of Hampden.  Uncle Herman obtained a patent for the dye process to color the carnations.   I was just a young boy when we lived a half block away, but I remember the warmth of the greenhouse  and the lovely smell of the flowers.  It was great fun!"
In 1954 the Englewood Chamber of Commerce adopted the title of "Carnation City". However, in the 60's, carnations from California and imports from South America, along with increasing demand for land in the metropolitan area, led to the demise of the carnation industry in Colorado. A few greenhouses, and carnations can still be found in the Carnation City.   The Oliner Greenhouse, which played a big role in the carnation industry, is long gone, and in its place is the Englewood Police Department, occupying a block-long building and parking.  Perhaps a new tradition can be started, Carnations for a Cop!
Written by Mary Beth Watkins, HRHS
Special thanks to Doug Cohen, Englewood Historic Preservation Society and Myron Oliner