Cherry Creek, Cherry Hills, Cherry Creek State Park, Cherry Street. It's amazing how often the cherry name appears in the Denver and Colorado area. Ever wonder where the cherry trees are and why so many places are named "cherry"?
Cherry orchards once thrived on the western slopes of the Rockies, where the climate is not subject to erratic spring weather. In the front range, cherry orchards abounded in the Big Thompson Valley area near Loveland in the late 1800's until a killing frost in the 1950's. At one time, there were more than 10,000 acres of cherry trees in the area, and according to the Loveland Reporter-Herald, "from the very first harvest in 1904 right up until 1960, the cherry industry in Loveland seemed to have employed every woman and child in town. "
Despite that, the abundant use of the word "cherry" in western names refers to chokecherry, also known as bitter-berry.  Lee Whiteley, author and local historian, was asked how Cherry Creek got it name, since there are no remnants of cherry trees in the immediate area.   His answer was simple and straightforward–"chokecherries".     These shrubs are among the most abundant native plant in Colorado, and grow throughout the west, producing a small dark red to black bitter fruit. The stone and leaves are poisonous, and much of the chokecherry plant is toxic to many animals.
However, the bark of the root, when brewed with other plants is said to ward off colds and fevers.  If enough sugar is added the fruit can be turned into jams, syrups and with some extra care, chokecherry wine can be produced. Native Americans used chokecherries extensively in their diet, even using it in some tobacco-like mixtures. The Native Americans, and early pioneers found that deer and elk were attracted to the chokecherry bush and thus settlements were established near the "cherry" creek, or "cherry" hill.  Imagine their surprise if they ventured into Cherry Creek territory today!
There are some small companies which produce chokecherry products, a number of them found in the Durango area. In the front range area, the fourth generation of the Lehnert family continues the Colorado Cherry Company (soon to be Legacy Pie Company) , now in four locations. Their products include fresh cherry pies, cherry jams, jellies, syrups etc. But most of these are made from cherries "imported" from the north shores of Michigan's southern Peninsula, and from western Washington state.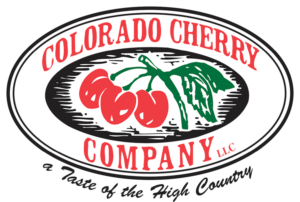 Highlands Ranch Historical Society is proud to have Colorado Cherry Company as an exhibitor at the February 2023 meeting which will celebrate George Washington, who according to legend 'chopped down the cherry tree".
—————
Thanks to
Cherry Creek East Association.org
The Denver Post, December 19,2022
Loveland Reporter-Herald, July 16, 2016
Written by Mary Beth Wilkins, December 2022