Maria von Trapp  (as portrayed by Elsa Wolff):  The Story Behind and Beyond "THE SOUND OF MUSIC"
Special Musical Guests – Deja Vu Quartet from the Skyline Chorus.     

Group Sing-a-Long led by Elsa on her Guitar
Matriarch of the Trapp Family Singers, Maria von Trapp (1905-1987), was a woman of passionate faith and uncompromising determination.  From orphan to Baroness, she led her family from being refugees to an internationally known singing group.
Sharing memories from pre-WWII Austria to the 1965 release of The Sound of Music, Elsa Wolff presents the story of the Trapp Family and their journey to a new home in America.  Step back in time to meet Maria von Trapp, a funny, lively and unforgettable woman, via this entertaining Living History program.
Elsa was certain to point out discrepancies between real life, and the movie, as well as give an update on life in America.   She stated that Maria had had 28 grandchildren, and that two of her sons were honored to be part of the US Army's 10th Mountain Division, based in the Colorado Mountains. Per Maria/Elsa,   "Music is the international language – if we could all  sing together we might not have have so much trouble."
And, reflecting on the American home for the von Trapps in Vermont, "Look at the view it is like Tyrol"  Maria also wrote a book with all her stories. In America the family became the Trapp Family Singers (they dropped "von").
There was an a cappella group to lead the singing, accompanied by Maria (Elsa) on the guitar.
About our Presenter:   Elsa Wolff
Elsa Wolff has been a storyteller, singer and speaker for 20 years. She recently added Maria von Trapp to her Living History repertoire.
Elsa captivated the audience with her personable performance as Maria.
SKYLINE CHORUS & DEJA VU QUARTET

In addition to the performance by Elsa as Maria Von Trapp, the Skyline Chorus – represented by Robin Mickle and Leslie Galbreath – had a table with information about the group.  They are actively recruiting new members and welcome inquiries. Déjà Vu quartet performed a medley of music from the Sound of Music.  They were attired as the "Sisters of the Holy Chord" and were a big hit with the audience.
Facebook: https://www.facebook.com/profile.php?id=100063499240901
Web: https://festivalnet.com/Deja_Vu_Quartet?fbclid=IwAR0SsFZ3PeNJwKOWOZssQbN8YXlacqBeXuxG0nyzrWWbjdDVUVMfGNfyllw
They are representing Skyline Chorus: https://skylinechorus.net/
Facebook: https://www.facebook.com/skylinechorus
YouTube: https://www.youtube.com/results?search_query=skyline+chorus+denver
RICK MARTIN, CPA   Also in attendance was Rick Martin, CPA, a new Business Sponsor from Charter Financial. This was Rick's first visit to the HR Historical Society, and he was joined by long-time and former Charter Business Sponsor Jim Brown.  Jim and Rick were happy to meet the Historical Society attendees. Per Rick, it "…is nice to see everyone in such a happy mood and enjoying this unusual performance."   http://www.cfrusa.com/location.htm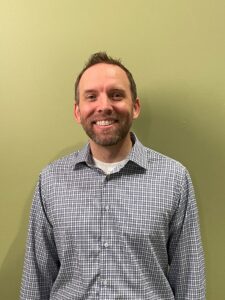 It was indeed an exciting and fun-filled evening.  Everyone joined together in singing the songs from the Sound of Music, and ending with the favorite "Edelweiss."