Soft Serve Ice Cream, Cheerios and Bilge Pumps
Have you ever thought of these things together? What can they possibly have in common? 
Just up the road from Highlands Ranch, in Englewood, is the former site of General Iron Works. 
According to an article written by Mary Bell for the Aurora Advocate Newspaper, October 18, 1967, "the General Iron Works was known as the "shipyard of the Rockies" during WWII, because of the quantity and size of the equipment produced for the war effort.  This Sterns-Rogers Manufacturing Facility was the largest in nearly a thousand-mile radius from Denver."  After the war the facility produced a wide variety of heavy industrial equipment.
Established in 1924, by the time the sprawling complex closed in the 80's and was transformed into the residential  Iron Works Village, General Iron Works held over 300 patents.  Among those were the patent for one of the first soft serve ice cream machines and the patent for the equipment which shapes the "O" for Cheerios.
Additionally, General Iron Works (GIW)  built bilge pumps for almost every US Naval vessel-perhaps not as exciting as ice cream but necessary to those ships.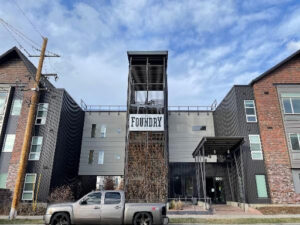 General Iron Works touched every aspect of life. They built water purification systems; the first potato chip cooker; farm machinery; and parts for the Grand Coulee Dam. An employee-owned company,  several hundred workers worked on parts for the Manhattan project as well as steam generators for the Fort Saint Vrain Nuclear Generating Station.Today, the former GIW Factory complex site has been redeveloped into Iron Works Village, a residential complex on W. Bates Ave. between Fox St. and Elati St.  The Village consists of the Foundry Apartments and an additional 135 single family residences and town homes. The Foundry Apartments has been designed to reflect the heritage of the former GIW plant, and is very industrial in appearance, including iron design elements as well as metal outer walls.  Inside there are abundant  historic photographs and descriptions of the GIW factory during its lifetime. 
According to current resident Kent Clements, the plant's industrial history is felt throughout the apartment building, as well as in the surrounding neighborhood, with former employees still living nearby.   Kent, a former Army Ranger, and his dog Divo, a hefty 130-pound muscle-bound canine, have lived in the apartment building for several years.  "We are well aware of the neighborhood's past activities and appreciate and can feel the presence of those many memories and employees from long ago."
The next time you are in Englewood on Santa Fe near the South Platte River and Hampden, if you suddenly start craving ice cream or Cheerios (or think of bilge pumps!), look at the Iron Works Village, former home of General Iron Works. The large mural on the side of the Foundry Apartments will send your mind racing back to those exciting times.  And who knows, a large bowl of Cheerios might be just around the next corner!!
THANKS TO:
Aurora Advocate, October 18, 1967         "Englewoods Amazing Story " by Douglas Cohn       Written by Mary Beth Watkins, November 2022