Highlands Ranch South Metro Fire Dept. Puts Out More Than Fires:
The History of Fire Fighting in HR
Highlands Ranch's early residents had no fire and rescue services. "Before 1986, Highlands Ranch was not located within a fire district," said Eric Hurst, Public Information Officer, South Metro Fire Rescue. "If fires were large, residents' property would be lost before neighboring fire districts could arrive." The closest fire departments were in Littleton and Louviers.
"In 1986, the first fire and rescue vehicle with a 300-gallon water tank was purchased for Highlands Ranch," he said. It was staffed with two firefighters, including a paramedic, who mostly responded to calls for injured construction workers, grass fires and natural gas leaks.   The "fire station" was located in a temporary trailer near Broadway and HR Parkway, along with Security and other services.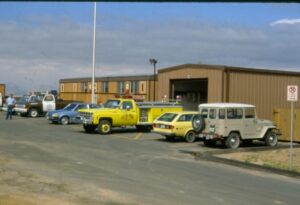 "Highlands Ranch Metro District contracted with Littleton Fire Rescue for services in 1987," Hurst said. The same year, Highlands Ranch's first station (#17) opened on University Blvd. near Eastridge Recreation Center. Its new engine carried 750 gallons of water and was staffed with three firefighters.
As Highlands Ranch grew, so did the size of its Fire and Rescue department. Opened in October 1994 on Blakeland Drive, "Squirt" 16 was a shared facility with the City of Littleton. The opening of Station 18 on Timbervale Trail followed in July 1998.
"The first large-scale wildland fire in Fall 2003 that burned more than 1,000 acres at Cherokee Ranch sounded the alarm for additional training and equipment," said Hurst. That eventually led to consolidating resources. Fast forward to January 2019 when voters of Highlands Ranch and the City of Littleton approved merging Littleton Fire Rescue with South Metro Fire Rescue.   Watch the You Tube Video Here(link is external)
In March 2021, Station 20 opened on E. Wildcat Reserve Parkway across from Mountain Vista High School. This state-of-the-art, 10,000-square-foot, $7.6 million facility improved response times to southern Highlands Ranch. "We're an all-hazard department and our fire truck is like a giant tool box to respond to any emergency," said Firefighter Jared Lombardi.
In front of Station 20 is a red hose cart likely one of the first firefighting equipment purchased for the Town of Littleton in December 1891. As Littleton Independent described, "The men did not have fancy fire trucks, but were obliged to run and drag a heavy two-wheeled cart holding around 750 feet of 2-1/2 inch hose." This equipment from more than a century ago is a reminder of the fire and rescue profession's proud history.
Each fire station adopts some local historical feature as a focal point for that station, effectively integrating that community's history into the fire station decor.  For Fire Station 20, which is located on the HR Mansion grounds, the Diamond K brand, first used by Frank Kistler as the name for his ranch and the brand for his cattle, was updated into the firehouse 20 logo, along with a little liberty taken by transforming the "cattle" into a buffalo!.  This logo is featured on the fire engine as well as on the back of the firefighters t-shirts.
Modern-day fire trucks are quite impressive!   Station 20 boasts this brush-fighting white truck,
along with the bright shiny big red engine.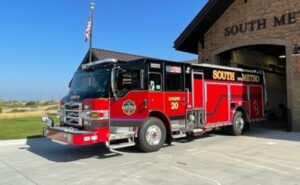 The Highlands Ranch Historical Society visited Fire Station 20, met the crew, and toured the beautiful new facility.
Below left,  the crew proudly poses for a picture in front of the engine 20.  Left to right–Firefighter, Jared Lombardi, Engineer, Todd Bramer and Captain Paul Slater.
In August 2021 Eric Hurst, Public Information Officer (left) and Einar Jensen, Risk Reduction Specialist (right) presented the history of fire fighting in Highlands Ranch to the Historical Society.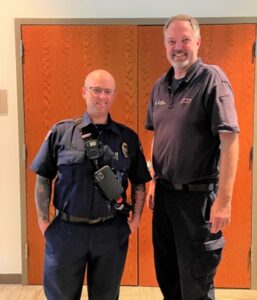 Thank you South Metro Fire Rescue for your service to Highlands Ranch.