This October 2022 presentation is about two discoveries: a recent very minor discovery by Rolf Asphaug of an intriguing little label on a local map, and the earthshaking, world-changing 164-year-old discovery which that label referenced. It is mainly of the 1859 Colorado Gold Rush started on rivers that go through the Highlands Ranch area and utterly transformed our region, but also how any one of us today can rekindle our history by keeping our eyes open to little things around us.
Rolf's HRHS slide show (with captions and narration) arose from on an article he recently wrote for his local homeowners' association newsletter and later posted on the NextDoor website. This posting gained nearly 1,000 "likes" and prompted nearly 200 comments, including wonderful additions. He later developed his article into a presentation to support his becoming a Certified Interpretive Guide under the National Association for Interpretation … and now has revised and expanded it for the Highlands Ranch Historical Society. History told by a series of pictures.
Rolf Asphaug
Rolf Asphaug is a retired General Counsel for the Regional Transportation District. He is a volunteer park patroller and naturalist for Jefferson County Open Space, Chatfield State Park, Castlewood Canyon State Park, Staunton State Park, Golden Gate Canyon State Park and at the Carson Nature Center at South Platte Park. He is a former president of the Colorado Mountain Club and a founding board member of the Colorado Fourteeners Initiative.
Rolf's wife's great-great-grandparents came to Colorado in the 1859 Gold Rush, and her great-great-grandmother's journal became a book – "Mollie: The Journal of Mollie Dorsey Sanford in Nebraska and Colorado Territories" – that is still in print today. Mollie's home is still standing in downtown Littleton – a house bought by gold dust.
Skot Latona
Skot Latona supplemented Rolf's historical slide presentation and added additional information. He brought panning equipment and discussed the panning technique.
Skot has served as the Manager of South Platte Park, South Suburban Parks and Recreation, in Littleton, since 2010 after managing the interpretation and education programs for the previous 12 years. He has led nature and cultural heritage tours through Littleton, around the west, and internationally for over 30 years and is a trainer for public, nationally recognized Interpretive Guide certification courses, Colorado Native Plant Master, and Audubon Master Naturalist and Master Birder programs. Skot's mentor in gold panning was the late Ray Simpson, state representative, mining expert, former commissioner of the Colorado Land Board and amateur prospector who developed S Platte Park's gold panning field trips for 4th graders since the mid-1990s.
GOLD PANNING DEMONSTRATION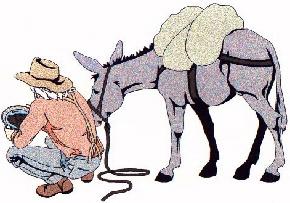 Gold panning, also known as placer mining is the technique used capture gold that has been deposited in streams and rivers through erosion, glacial action and general movement of earth. Also known as free gold because it has broken free of where it was deposited in the earth eons ago in what is generally believed to be the explosions of neutron stars. Members of the Gold Prospectors of the Rockies Gordon Smith and his wife Yvonne were on hand to demonstrate this technique. Gordon is on the board of the club and will also be happy to answer any questions about club activities and membership. Gold Prospectors of the Rockies may be reached at http://goldprospectorsoftherockies.com/
THREE authors had their books for sale and signing.
Englewood's Amazing Story, Doug Cohn
July 20, 1858: Gold was found in Little Dry Creek that later became the Englewood, CO area. It changed the course of history in the United States.
"Englewood's Amazing Story" by Douglas Cohn is about the many inspiring and inventive people who have made their home in Englewood, CO. It also includes a fascinating, easy to read history our area played in the Colorado Gold Rush.
Douglas Cohn is a Colorado native and longtime Englewood resident who has a big heart for history. He fell in love with Colorado history in the 8th grade when he was a picture of the "face on the barroom floor" in Central City. He is a graduate of Englewood High (1965), the University of Colorado (1969) and the Conservative Baptist Seminary (1972). He ran a halfway house in Denver for six years for homeless young people. His family owned the Bonnie Brae Hobby Shop.
Doug has served on the Englewood Historic Preservation Society Board for 10 years. He loves learning about history and has shared history stories in the Englewood Schools, senior centers and History Camp Colorado. He is active in the Rocky Mountain Railroad Heritage Society and has been working with the City of Englewood to produce the YouTube video series "Englewood: Moments in History". Doug can be reached at enghisguy@gmail.com
Pathway to Gold, Lee and Jane Whiteley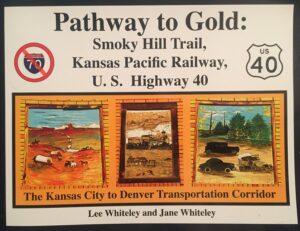 Lee and Jane Whiteley have written seven books relating to the history of transportation in the West. Their latest book is "Pathway to Gold," a history of the Smoky Hill Trail. This wagon and stagecoach road was blazed specifically for the 1859 "Pike's Peak" gold rush. The trail ran from several Missouri River towns to Denver.
Lee is the featured presenter for our November 21, 2022 program, where he will discuss these transportation pathways and the importance to our area, along with fascinating information about the many "mile houses" that ran from Denver to Parker. Two of these Mile Houses are still available for visiting and reliving the past! Lee also had an assortment of his 7 books. Lee and Jane are passionate about taking the backroads, side roads and off roads, and as Lee always says "Friends don't let friends take the interstate!"
Lee can be reached at leeandjanewhiteley@yahoo.com
Finding Gold in Colorado, Kevin Singel
Kevin Singel caught gold fever at the age of six when his father read a National Geographic magazine article about gold prospecting to him. Arriving in Colorado in 1989, one of his first weekends was spent buying gold pans and learning to pan. He is passionate about the hobby and art that is small scale mining and prospecting. Kevin authors the website www.FindingGoldinColorado.com. "In recent years, his interest has become a passion with his book as a tangible result." Kevin also manages the Facebook group 'Finding Gold in Colorado'. Kevin can be reached at www.FindingGoldinColorado.com