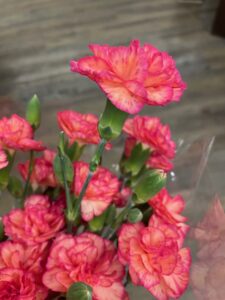 She had dozens of carnations shipped from Colorado to the White House weekly. Marie Geneva Doud, known as "Mamie ", was born in Iowa but raised in Denver. She attended the Wolcott School for Girls, a finishing school for wealthy young girls. While visiting friends in Houston, she met Army 2nd Lieutenant Dwight David Eisenhower but was not impressed. She initially rejected his requests for a date, but his persistence wore her down. After promising her father that he would not enter the "dangerous" Army Air Corps, Mamie and Ike were married at the family house, 750 Lafayette Street, located in the Cheeseman Park area of Denver.
After multiple relocations due to Ike's army career, and a long separation during World War II, in 1952 Mamie became the First Lady in Washington DC. A childhood bout with rheumatic fever and difficulties due to Menier's Disease, had often left her bedridden. But as hostess of the White House, Mamie took charge of the household management, and excelled at the social activities her position required. She was known for her fashion sense, favoring the color pink.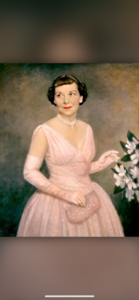 A budget conscious woman, she used donated funds to redecorate rooms in the White House.
Fresh flower arrangements were part of her decorating scheme, and she received over 200 carnations weekly from Colorado's "carnation city", Englewood.
Mamie and Ike returned frequently to Denver, staying at her parent's house. Ike would travel into the mountains to fish or play golf at the nearby Cherry Hills Golf Club. It was here that he suffered his first heart attack and was hospitalized at Fitzsimmons Army Hospital in Aurora. Mamie settled in an adjoining hospital suite for the duration of his recovery….even installing a pink toilet seat to remind her of home.
After his recovery, he completed his term of office and was elected for a second term. In retirement, the couple settled at their farm near Gettysburg PA. Ike died in 1969; Mamie two years later.
Written by Mary Beth Watkins