Touring Louviers: A Dynamite Way to Celebrate Our Volunteers
On Monday, September 18th the Highlands Ranch Historical Society hosted a tour of Louviers and a picnic lunch to honor our Wranglers – the volunteers who help to make our monthly programs run smoothly. Louviers – just north of Sedalia off of Santa Fe Drive – is a small community with a big history. It was here that DuPont chose to build its western dynamite production factory.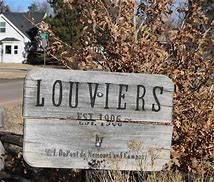 After purchasing the land in 1906, DuPont developed its company town.
Close to the mines and quarries where its dynamite would be used, the Louviers town site was remote enough for safe production, yet close to rail lines to facilitate raw materials and finished goods transportation.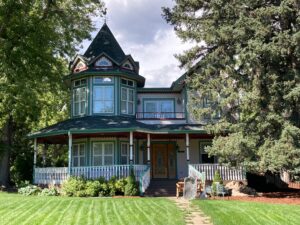 There, DuPont built nearly 70 workers cottages as well as larger homes for foremen. The largest of these homes were the three on Capitol Hill for the town doctor and the plant superintendents that are still here today.
The arts-and-crafts style Village Club House, built in 1917, has been beautifully maintained and continues to be a centerpiece of town activity. Its two-lane bowling alley, one of the oldest in Colorado, is still functional.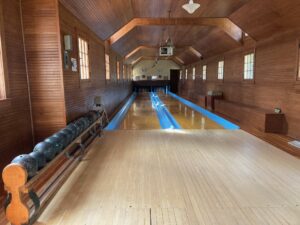 At one time, the building also had a shooting gallery in the basement and a billiards room for entertainment. Dynamite production ceased in 1971 and the town of Louviers became a National Historic District in 1999.
The Wranglers enjoyed a lively presentation on the history of Louviers and a tour of the clubhouse by Jim Weglarz of Historic Douglas County. Afterwards, he led a short walking tour.
Passing the 1927 Presbyterian Church, the Wranglers headed to the former site of the Louviers hotel, store and post office. Douglas County Open Space now has a short walking trail here that overlooks the DuPont land where the production facilities once stood.
Continuing up the hill, Jim pointed out the Capital Hill homes and the large privacy hedge protecting them.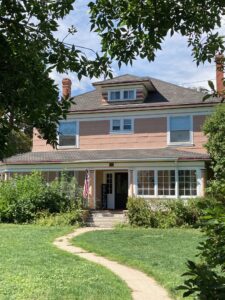 After the tour, the Wranglers met up in Triangle Park to share stories over lunch.
Thanks to Sandy Chamberlin, Volunteer Director and Jim Weglarz for the great tour and thanks to all of our Wranglers for volunteering on behalf of the Highlands Ranch Historical Society!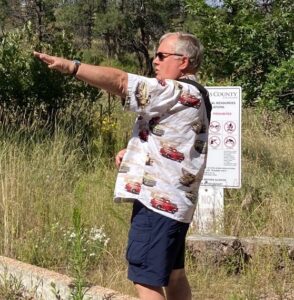 For more photos of the tour and Louviers, visit the PHOTO GALLERY
Written by Marian Robinson, HRHS